Content creation is becoming a major part of the wedding industry. Rather,
content creation
is a new trend that the industry is still trying to wrap their head around, honestly. If you pull up any bridal publication, there will be a few articles on the topic. If you google it, you'll see a few news stories, some advertising their services, and others just trying to get you to click on their articles.
We recognize that when wedding content creators are discussed, they're usually in a one-size-fits-all description, which is not the reality. Let us break down the different types of content creators and why you need to know about each of them.
The wedding content creator that is an upcoming bride (or groom)
There is an exhilarating uniqueness about being a fiancée or fiancé. For many, it's the one time in your life that you're planning your wedding. Some are taking to micro-video apps like Instagram and TikTok to document their engagement journey. From there, they're sharing their wedding planning experiences or being inspired by other weddings. Or maybe they're learning how to DIY certain elements of their wedding. These bridal content creators are also becoming friends with other engaged people and newlyweds.
Due to their relatability and quality of content, they might be sought after from bridal brands that are leveraging influencer marketing, though it seems that some of these brands might discriminate. Most seem to enjoy creating content and the community it brings, though many Black bridal content creators have vocalized a lack of views and opportunities, which can discourage them from posting regularly.
It is important to know that the length of their bridal content creation or wedding content creation journey varies from creator to creator. For some of these wedding content creators, their splash of influencing will end after they get married. Once they get their photos and/or video back, they'll share that and let their accounts go inactive. A few will turn shift their accounts to another hobby that is occupying their time. Others will want to continue the adrenaline rush from their wedding and will use their accounts to help others with their wedding planning. And then there are those that saw an opportunity, which leads to the next type of wedding content creator.
A few bridal content creators you should know:
The wedding content creator that is a wedding vendor
The content creator vendor might be one of the most misunderstood vendors due to the industry's lack of understanding of their value and purpose. This vendor could've been a bridal content creator that vlogged her journey and now wants to help others capture their day, too. Or, this is a service provided by a photographer or videographer as an add-on.
The type of bride that is interested in this vendor wants to capitalize off the power of social media videos and the immediacy of the deliverables. The bride isn't waiting months for her footage but more like days, maybe a week. It gives them something to hold them over as they wait for the rest of their wedding media to come in. For most, this vendor won't necessarily replace the videographer but can be an additional asset. With the cost of this service ranging on the wedding content creator vendor, it makes sense for bride or groom to do their research.
A few wedding content creator vendors you should know:
The wedding content creator that is a bridesmaid or a guest
Now, not everyone will have the budget for a wedding content creator vendor and that's A-OK. (Leans in closely and whispers) Brides don't need a wedding content creator vendor to get these moments from their wedding day. But honestly, though. The bridesmaid, groomsman, wedding guest, or anyone else that is attending the wedding has the capability of documenting the wedding day. It can be a group effort where everyone is encouraged to capture and share with the couple of honor through a shared album or a similar gallery.
Or, the couple could hand select which wedding guests they'll ask to be the designated wedding content creators for the day or the weekend. The only risks with this route comes with them prematurely sharing footage or getting too carried away as a guest (and forgetting their job.)  We just suggest that if that's the route that looks appealing, make sure the planner/coordinator and officiant is aware (especially if there's an unplugged ceremony.)
The content creator that's getting married
One would think that this content creator would be the one most would think of when thinking of wedding content creators but, for some reason, she is not. We're talking about the content creator that is engaged or finally having her wedding. This person is already an established influencer and knows the ins and outs of this content game. Depending on her current niche, she may be able to capitalize off a wider range of brand partnerships than the bridal content creator that just started. By documenting her wedding planning process, she will be able to capture a new audience of fans which may continue to follow long after the wedding is over.
A few content creators that are engaged or recently married that you should know:
The wedding vendor that also creates content
For every bride-to-be that is blogging, vlogging, or podcasting, there is a wedding vendor trying to educate the masses on the same platforms. These vendors have recognized the power of content creation and are using it as part of their marketing strategy. These vendors don't usually leverage brand partnerships, despite their frequent use of certain products and educational presence. That could change in 2023 as TikTok shifts to more long-form content and wedding content creation gains more popularity and attention.
A few wedding vendors that create content you should know:
So, these are the five different types of wedding content creators that everyone should be aware of. They create content for various reasons, but yet they could all impact influencer marketing and the wedding industry in the years to come.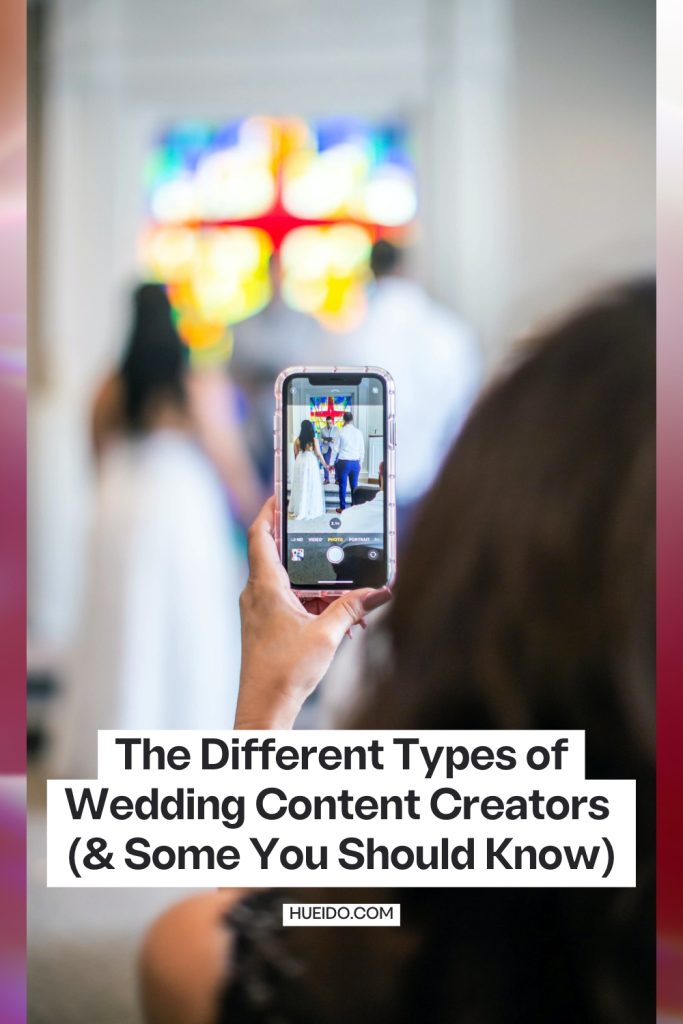 Keep Reading